The 4-H camping program includes opportunities for summer camping.
And we are announcing ACADEMIC UN-CONFERENCE – what is an un-conference? It is a virtual "camp" opportunity for 6th – 8th grade (based on January 1, 2020) – no cost involved and the dates are June 9-11. To learn more about Academic Un-Conference Timmy Mann to register by June 1st.
State Target SMART Shooting Sports Camp​
CANCELED for 2021
$300 deadline September 1st (Application)​
Junior Camp 2021
Dates: May 31st – June 4, 2021 CANCELED
Join us for the 4-H Camp Traveling Road Show Day Camp at the Robertson County Fairgrounds June 3rd! Sign ups start April 1, 2021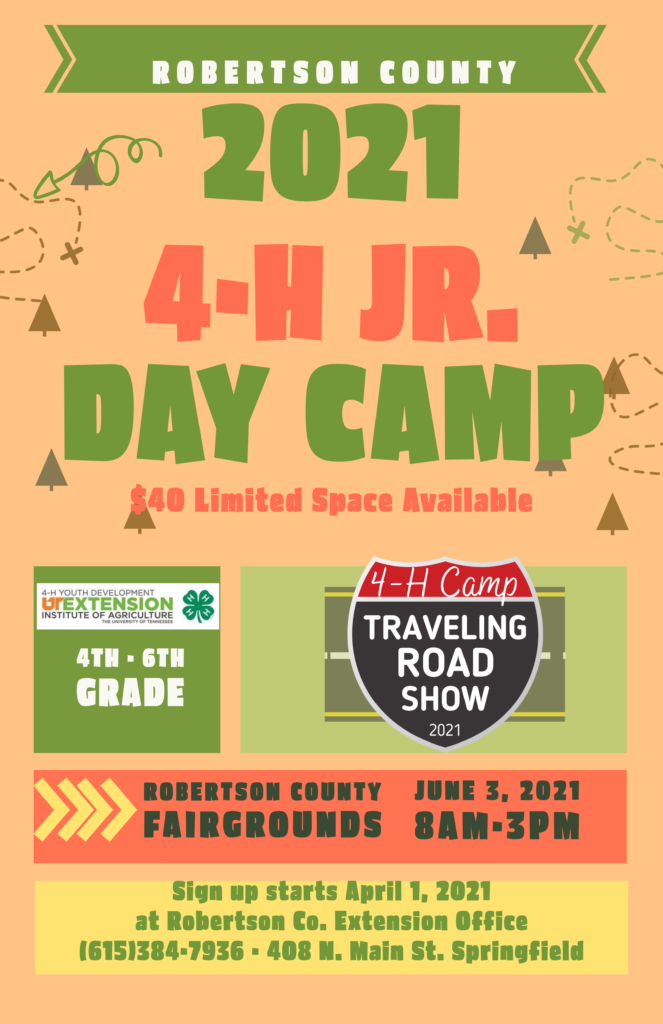 Junior High Camp
CANCELED
Submit application in brochure to the Robertson County Extension Office at 408 N. Main Street, Springfield.
Fee – $345
2020 includes off-site adventure – (transportation not provided) Deadline May 1.
Click here for more information about Junior High Adventure Camp.
FCS Behind the Scenes: Interior and Architectural Design
July 14th – 17th, 2020 – Savannah, GA
$350 (limited number of partial scholarships available for Robertson County 4-H/ers) – Grades 8th – 12th.
This is the seventh year of the Behind the Scenes trip….if you have an interest in interior design, you don't want to miss this opportunity. Registration opens April 6 and ends when all spaces are filled.
FCS Behind the Scenes – Registration Form
Academic Conference
Located at UT Knoxville, June 2020 for 6th, 7th and 8th graders requires an application and acceptance process. If accepted, the fee is $50, transportation from Nashville via chartered bus is included. Complete the Academic Conference application and a form 305A based on one of the 4-H project areas featured at the conference. Details are in the brochure. Tentatively, the deadline to register is April 1, 2020.
Who May Attend Academic Conference Any junior high member (grades 6-8) enrolled in one of the following 4-H project areas is eligible to attend Academic Conference: Beef, Companion Animals, Sheep, Goat, Forestry, Swine, Consumer Education, Garden/Home Horticulture, Wildlife and Fisheries, Citizenship, Horse, Veterinary Science, Dairy, Line and Design, Dairy Foods/Foods-Nutrition, Poultry
Southern Region Teen Leader Forum
INFO ON 2020 COMING SOON!
Conference Dates: TBA
The 15th annual Southern Region 4-H Teen Leadership Conference, will be held at the Clyde M. York 4-H Center in Crossville, promises to be a conference 4-H members will never forget. This event, open to 4-H members ages 14-18, is an outstanding opportunity to help youth develop leadership skills and citizenship skills and help them find opportunities to put those skills to use in their community.
The registration fee for this conference is _____which includes lodging, meals and a t-shirt.
Click on these links for additional information and for a registration form.
Additional camping opportunities
(Check the deadlines for each camp and watch for updated brochures. Also note that credit card payments are an additional 5%)
* Transportation NOT Provided
** Bus Provided from Nashville Area